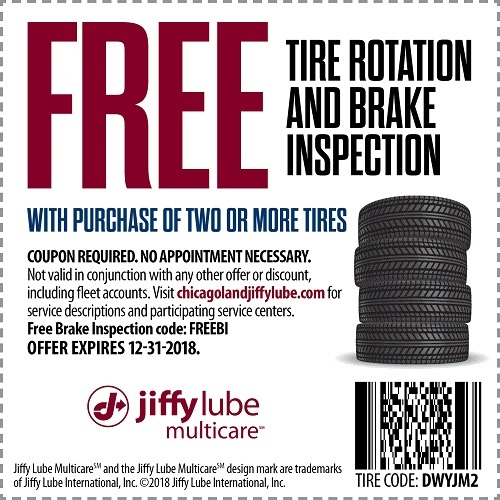 How are your Brakes? Find out with free brake inspection and tire rotation with the purchase of two or more new tires at select Jiffy Lube Locations today! Find your local Chicagoland Jiffy Lube® here:
Brakes & Services Locations
Algonquin
Aurora (Sullivan Road)
Chesterton
Chicago – 1230 S. Western Ave
Chicago – Andersonville
Chicago – Austin/Fullerton
Chicago – Edison Park
Chicago – Ravenswood/Lincoln Square
Chicago – Westlawn, Marquette Park
Elk Grove Village
Elmhurst (York St)
Evanston
Hanover Park (Army Trail Road Location)
Hanover Park (Irving Park Road Location)
Hoffman Estates (Higgins Road)
Homer Glen
Lincolnwood
Matteson
Merrilville Indiana (9301 Broadway)
Mount Prospect
Naperville on 75th Street
Naperville on Ace Lane
Oak Forest
Oak Lawn
Oak Park (Harlem Avenue)
Oak Park (Madison Street)
Oak Park (North Avenue)
Orland Park
Park Ridge
Roselle
St. Charles
Valparaiso Indiana
West Chicago
Yorkville
Why is it important?
The Brake system provides the ability to stop a vehicle efficiently and safely and therefore is a vital component of driving safely. A well maintained Brake system protects the vehicle, driver, passengers and others sharing the road. Periodic inspection of friction material, vital system components and hydraulics helps to ensure efficient system performance and cost effective repairs.
What do we do?
Jiffy Lube® technicians begin with a thorough inspection of a vehicle's brake linings and key components. A written evaluation, with detailed diagnoses of findings, is provided and reviewed with the customer. Service recommendations are based on the vehicle manufacturer's specifications and the existing condition of brake components that impact system performance.
How often?
Vehicle manufacturers recommend brake inspection at regular intervals, usually every 12,000 miles, to ensure vehicle safety and cost effective repairs. Repairs are recommended based on vehicle manufacturer specifications and existing conditions for brake linings and other key components.